Description
Water For Injection Generation Plant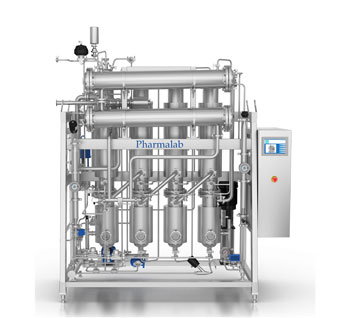 Over the last 30 years, Pharmalab has been the leading supplier of plants producing water for injection, which meets international standards, including USP, IP, BP and JP. The plants are manufactured as per FDA's current Good Manufacturing Practices (cGMP) and ASME requirements and follows the basic principle of Distillation by Thin Film Evaporation.
This process involves a shell and tube heat exchangers (columns) where heat transfer is done by falling film evaporation. Very high temperatures are reached for every drop of water produced, thus ensuring sterility levels demanded for WFI. Separation of the Pyrogenic load is achieved through centrifugal forces generated during the upward movement of the steam.
During the process, the feed and distilled water within the plant is in constant motion and hence there is no stagnancy. Impurities, along with the Pyrogenic load, are continuously purged from the last column. At start-up during pre-heating and self-sanitizing the residual accumulated water will also drain off before WFI is produced.
Our plant is designed to be crevice-free as crevices promote stagnation and stimulate bacterial growth. All columns are designed to ASME specifications and are approved by CE for PED regulations as per European Union requirements. All parts in the plant coming into contact with WFI and Pure Steam are electro polished, pipe joints are orbitally welded, gaskets are made from pure Teflon or pharmaceutical-grade silicon and the first column is a double tube sheet designed to prevent pure steam mixing with plant steam, should there be a weld joint failure in the tube sheet.
This state-of-the-art system delivers WFI of a quality standard for storage and distribution that is, much higher than what is desired by pharmacopoeias throughout the world.
Trust Me! We are Engineers
We are committed to be your brain, eye and heart designing and bring the projects and products with our experience in the industry.