Description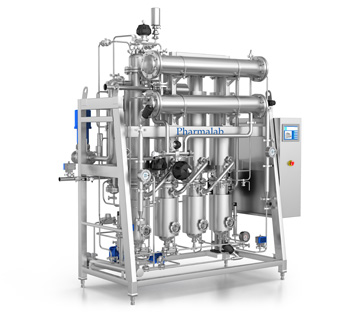 Pharmalab has been a leading supplier of Water for Injection Plant and Pure Steam Generators for more than three decades. With an aim of providing better solution to its customers, Pharmalab has designed a Smart Still, combination of WFI generation plant and Pure Steam generator,to produce WFI and Pure Steam from a single unit. It is designed to produce WFI & Pure Steam either simultaneously or independently. Smart Still is designed to meet the stringent standards set by major pharmacopoeias like USP, IP, BP, and JP. The still is manufactured as per FDA – current Good Manufacturing Practices (cGMP) and in accordance to ASME requirement. The WFI and Pure Steam is produced on the basic principle of Distillation by Thin Film Evaporation.
This process involves a shell and tube heat exchangers (column) where heat transfer is done by falling film evaporation. High temperature is reached for every drop of water and steam produced, thus ensuring sterility levels demanded for WFI & Pure Steam. Separation of the pyrogenic load is achieved through centrifugal force generated during the upward movement of the steam. Pure Steam generated from this equipment surpasses the steam quality test like non-condensable gases, degree of superheat and saturation test as per HTM 2010 & EN285 requirement. Our plant is designed to be crevice-free as crevices promote stagnation and stimulate bacterial growth. All columns are designed to ASME specifications and are approved by CE for PED regulations as per European Union requirement.
Standard designs available with set ratio of WFI to Pure Steam output. Customized designs possible with different ratio of WFI to Pure Steam output as per need
Trust Me! We are Engineers
We are committed to be your brain, eye and heart designing and bring the projects and products with our experience in the industry.