Description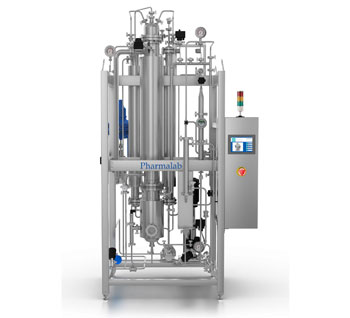 As per cGMP requirements it is recommended to use Pure Steam in place of filtered plant steam. This steam is used for all in-situ sterilization of vessels, Piping Distribution systems, autoclaves, and for humidification of sterile rooms. This will prevent contamination by particulate matter, organics and biological loads like Pyrogen, which is unavoidable in the case of plant (black) steam.
Pharmalab manufactures Pure Steam Generators to meet cGMP requirements. Condensate of this pure steam produced does meet all pharmacopoeia requirements of WFI like USP, IP, BP and JP. The plant is manufactured as per FDA current Good Manufacturing Practices (cGMP) and ASME requirements.
Pure Steam generated from this equipment also surpasses steam quality tests like non-condensable gases, degree of super heat and saturation test as per requirement. Pharmalab has developed improvised equipment for removal of these gases before pure steam is produced.
The basic principle of operation is Distillation by Thin Film Evaporation. This consists of shell and tube heat exchangers where heat transfer is done by falling film evaporation which gives assurance for achieving high temperature for every drop of water, assures the sterility aspect and separation of pyrogenic load done by centrifugal action generated during the up-ward movement of steam.
Care is taken while designing to avoid crevices, which promote stagnation and stimulate bacterial growth. All contact parts where the Pure Steam is generated in this plant are electro polished. All pipe joints are orbitally welded. The column with which plant steam comes in contact has a double tube sheet construction to avoid the mixing of pure steam with plant steam in case there is a weld joint failure in the tube sheet. All gaskets are made from pure Teflon or Pharmaceutical grade Silicon.
The equipment is as per ASME design, and is approved by CE for PED regulations as per European Union requirements.
Trust Me! We are Engineers
We are committed to be your brain, eye and heart designing and bring the projects and products with our experience in the industry.